For Scavenger Hunt Sunday this week, people took photos related to the following five prompts.
1. Bokeh
In the bokeh (blur) in the background of this Meatless Mondays meal are lemon, cilantro, and Mmmm sauce. (I really like my blurred son in the background of this gelato picture from last month, too.)
2. Process of Elimination
My day at the US Open gave me a lot of opportunities to practice the process of elimination. Between being too far away or having obstacles blocking my view, I was able to improve my photos through cropping.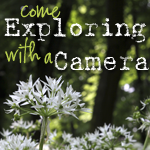 3. Remember

(Archive) My older boy entered high school this month. I remember his first day of kindergarten so clearly. This photo makes me so happy and sad.
4. Statues
(Archive) When this "living statue" came to life to thank us for our donation, she startled my little boys, who had thought she was a real statue. Grafton Street, Dublin. (Update–Read about her in this 42-word poem: The Angel of Grafton Street.)
5. Flying High
The flag flew high over a memorial service today to mark the tenth anniversary of 9/11.
—
Thanks for visiting! You can see how others interpreted the themes by clicking on the button below.