For Scavenger Hunt Sunday this week, people took photos related to the following five prompts. I used photos from my archives for this hunt.
1. Before and After
I can't believe how long my boys hair got in 2007. For these before and after photos, I Photoshopped them so that each boy would be in a picture with himself, before and after his haircut. Do you like their hair better long or short?
2. Opposing Lines
A closeup of the Parthenon from our trip to Greece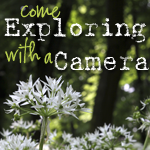 3. Custom Bokeh
I didn't do this in-camera as the prompt suggested, but I played around with Photoshop to try to create a bokeh effect.
4. Which Pair of Shoes Should I Wear?
Even though these boots were waterproof, my feet were still soaked once the trail became a stream, and I didn't have rain gear to cover the tops of the boots.
5. Little Features
My newborn son with his daddy
Thanks for visiting! You can see how others interpreted the themes by clicking on the button below.