#5. 101 things in 1001 days: Attend a UU church meeting.
As someone who has lost her religion, I still seek the community that a church can provide. Over the past few years, I have occasionally attended church services, but I've been an imposter.
I was curious to attend a church service where I could feel at home. The Unitarian Universalist church, while based upon a legacy of Judeo-Christian beliefs, doesn't emphasize belief in a certain creed.
I felt welcome and enjoyed all the accoutrements of a church visit that I usually enjoy–flowers, candles, music–as well as the message I usually enjoy–love, compassion, justice–without the aspects that unfortunately can come along with organized religion–intolerance, judgment, superstition–not to mention all that kneeling every couple of minutes.
During the UU service, the happy, supportive atmosphere was enhanced by hand clapping to a crowd-pleasing, secular song:
"Lean on me, when you're not strong
And I'll be your friend
I'll help you carry on
For it won't be long
'Til I'm gonna need
Somebody to lean on"
— "Lean On Me," Bill Withers
The lyrics fit perfectly with what I long for from religion, the sense of a community of people who care for and support each other.
While the minister delivered her welcoming message, I reflected on my tangled religious history. I was raised a Catholic, but for most of my life, my thoughts on religion have been rife with uncertainty, summed up by this scene from an old Woody Allen movie:
"How the hell do I know why there were Nazis? I don't know how the can opener works!"
During the last decade or so, though, I have moved from the uncertainty that placed me in the agnostic camp over to that other "A" word, atheism, which is treated as a dirty word in America.
I don't advertise it, but if people ask me my beliefs, I tell them. They sometimes will whisper, "Yeah, I don't believe either," like we've admitted something shameful.
History, though, is full of shame, centuries of outrageous horror caused by organized religion. And when something like the Newtown school shooting happens and someone like Mike Huckabee says it happened because God has been removed from public schools, that's where some more shame belongs. What must people around the world think of my country when they hear these idiots? I know in my heart that if there were a God, even he could never love a person like that, let alone create him.
Despite my lack of belief, I love the world's religions the way I love any good story. The ancient Greeks couldn't understand the science behind the crops withering and dying each winter. They imagined their harvest goddess, Demeter, in the depths of despair at her innocent daughter Persephone taken away by the god of the underworld. I picture an ancient Greek mother trying to come up with an explanation for why the seasons change. She couldn't, of course, any more than she could explain the death of a child. So Demeter mourned while Persephone sat with Hades on the throne.
A great story. I just don't believe in it.
Toward the end of the UU service, the minister shared a thought-provoking sermon about pity being the near-enemy of compassion. It was inspired by a mystery novel, The Cruelest Month, which had been the reading earlier in the service. I enjoyed the sermon, and I felt relief that I didn't have to pretend to believe in stories that I don't think are true.
For those of you who find comfort in your faith, I sometimes envy you and wish I still believed, but I also wish that we could grow beyond religion. Let's face our fears of the unknown, and let's make this life worth living.
Now if only I could understand how the can opener works.
—
Link: The Unitarian Society of New Haven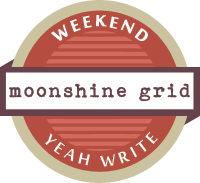 Write on Edge
Thanks to BlogHer for featuring this post on its Life tab.