{Celebrate your courage: Send me a postcard.}

"The Spam thudded onto the cutting board with an Alpo-esque scthfflurumphhh."
I came across a strange recipe for Spambalaya Jambalaya, and it ended up on my 101 things list. Aside from its awesome name, I had to ask: Why?
Canned spiced meat product mixed with fancy seafood just seemed a little off, and… well, it was.
Pink wine with pink meat
I felt I needed to class things up a bit, so I Googled What wine I do serve with Spam? and found this helpful advice:
"I'd look to simple, fruity and accessible reds with SPAM™, seeking the same type of wines that I'd serve with ham: Beaujolais, lighter Pinot Noir, Loire Cabernet Franc or the fruitier sort of Italian reds such as Valpolicella or Bardolino. … Or rose, of course. After all, the logical extension of the classic rule might be 'pink wine with pink meat.' Finally, don't overlook the possibility that this may just be the time and place to reconsider White Zinfandel. If you're willing to put SPAM™ on your dinner table, why not go the full Monty…Python?"
A Spam dinner party
I gathered a merry crew to try my Spambalaya Jambalaya with me. After months of trying to get everyone together, it was time to open the cans.
The Spam thudded onto the cutting board with an Alpo-esque scthfflurumphhh. We each explored the gelatinous coating and tried the Spam fresh from the can. I knew it would be less than appetizing, but it was grosser than I anticipated, soft, spongy, a sickly pale pink, and salty as hell.
Even though I took on this challenge as a goof, I hardly ever entertain and this was a rare dinner party, so I rued having to put this stuff into my jambalaya.
I cubed it and lightly browned it in olive oil, and it was somewhat improved. Not great, but not going to ruin my dish either. I made my Spambalaya Jambalaya with shrimp, sausage, and Spam, and I served it with mustard greens and cheddar corn bread. And the pink wine, of course.
In the finished dish, the sautéed Spam added bursts of salty silkiness. (How's that for trying to class it up? Check out this funny video about pretentious food.)
We had a fun meal together and ended on a high note with Alicia's delicious Chocolate Bourbon Pecan Pie.
While the Spam wasn't a total win, at least it reminded me of one of my favorite Monty Python skits:
I gotta admit that Spambalaya Jambalaya was a lot better than this kind of spam. What is wrong with these people?
Spam not your thing? Take me to the quesadilla casserole.
What's your favorite Monty Python skit?
Bloggers: Does spam drive you crazy?
#92: 101 things in 1001 days. Make Spambalaya Jambalaya.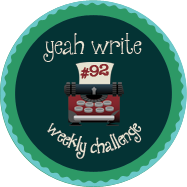 {Yeah Write readers: My submission A church where an atheist can feel at home was removed from the grid because I posted it a day too early. Sorry for the confusion.}