Image by Stuart Ross, used with permission

I thought I was safe to go to a comedy club in New York City, but I was wrong.
If a performer on stage ever needs a volunteer, I have a special talent: I become invisible. His eyes will pass right by me, and if by some quirk his eyes land on me momentarily? He will read the sign on my chest that says, "If you pull me onto your stage, I will stand there awkwardly until I've sucked every last drop of life from your show." His eyes will move on to the next available sucker.
This talent served me well through high school and college when I managed to go entire semesters without saying a word.
So I thought I was safe to go to the comedy club. I had heard all the tips to avoid being targeted by the comedians: Sit in the back, don't chit-chat during their performances, and don't ever, ever walk in late on their sets.
I also have this other talent, though. If someone cracks a joke, I'll laugh. If it's a joke that falls flat on everyone else, I'll laugh louder.
Lowbrow or highbrow, I'm good for a laugh. Since I'm the type who will think of a comeback 42 minutes after everyone has left the room, I appreciate the effort. And I sincerely find it funny.
Once in college, I got dissed in the bathroom by a snarky woman from my journalism class as she came out of the next stall: "Well, if it isn't Anthony R. Cannella's number one fan?" She had noticed that I was the only one laughing at my professor's dry sense of humor.
So, I wasn't quite as safe hiding in the back of the Comedy Cellar as I would have liked. The woman on stage was off to a slow start. In fact, she was dying.
She made a quip. Crickets. I gave an encouraging laugh. She followed up with a weak one-liner. I laughed louder.
Her eyes found me in my hiding spot in the back of the crowd.
For some reason lost to history, I was wearing a bright yellow sweater. We're talking neon. My clothes, like my personality, usually blend in with the background.
She shielded her eyes from the brightness and said, "Well, look at you back there in the bright yellow sweater."
Heads swiveled toward me. Real laughs. This, the crowd loved.
For the rest of her set, if a joke fell flat, she would look my way for a laugh. If she threw in the word "yellow," she could delight the crowd.
I played along as best I could, ruing the day I ever ventured out of the safety of earth tones.
She wrapped up: "For the rest of my days, I'll never forget that bright yellow sweater." Roars.
I reminisce about all this to encourage a friend, who is considering making his debut at an open mic comedy night.
He's a funny guy, and I want him on that stage. I am sure he'll kill. But, if not, I can guarantee him at least one person will be laughing.
It'll be the woman hiding in the back. Wearing black.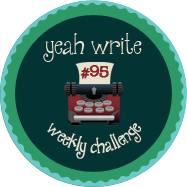 This is part of a series, Scene from a Memoir.