My little brother and I would wait for the card game to end in the deserted ladies lounge. We got unlimited sodas from the bartender and a pocketful of quarters for the jukebox, playing "The Night the Lights Went Out in Georgia" over and over since it was the only song we knew. This was free day care before day cares dotted the landscape.
Jimmy and my dad played a lot of poker together, and when one of them bet on a losing hand and had to flip over his cards, the other would shout: "He's raw meat!" Eventually they called each other "Raw Meat" and then just "Meat" all the time.
Everything they said to each other ended in an exclamation point.
At the county fair: "Hey, Meat! You gotta try this fried dough! It's the 'World's Best Fried Dough'!"
On Jimmy's boat: "Hey, Meat! Throw me that line! Make yourself useful, for Christ's sake!"
They wore complementary tee-shirts around town, one shirt proclaiming "I'm with Stupid" and pointing to the other one that read "Stupid." They wore "Captain" and "First Mate" tee-shirts on Jimmy's boat.
They wiped their mouths with the back of their hands while eating ribs and would never turn down a chance to prank each other. As I turned from that little kid playing Vicki Lawrence on a jukebox to a surly teenager listening to Led Zeppelin behind a closed bedroom door, I would still choose to tag along with them. They were a guaranteed good time, shouting, laughing, treating any kids around to anything we wanted.
And then, all of a sudden it seemed, Jimmy was losing a battle with cancer. He became thin, haggard, weak. My dad's exuberance could still raise the corners of Jimmy's lips, but that was it.
"Hey, Meat!" my dad shouted from Jimmy's doorway.
"Meat," Jimmy whispered.
My dad barged into the formal living room where Jimmy was encamped on the sofa. He had driven to Jimmy's house straight from the shore, where he had gathered a big plastic bucket of clams.
He sloshed dirty water as he walked, and he plopped down the bucket, thick with dark mud, onto Jimmy's wife's white shag carpet.
"Meat! Eat these clams! They'll cure you!"
My dad had seen a news tidbit that clams were being studied as a cancer cure.
Poor Jimmy, no appetite, no energy, let my dad hoist him up to a sitting position and feed him raw clams. Jimmy's wife, a serious woman with an immaculate house, stood speechless in the doorway.
The footprints of mud from the door to the sofa. The filthy bucket. The raw clams? She said nothing and watched, shaking her head a little that my dad couldn't accept that his best friend was dying.
Jimmy slurped down the clams, one after the other.
I'll be damned if Jimmy wasn't cured. His cancer went into remission, and he regained his strength. He died many years later of a different illness, cancer free.
Humble thanks to Yeah Write for awarding this the jury prize and for selecting it for its "Best of" grid. Click the button below to read some amazing essays from throughout Yeah Write's two years. Happy birthday, Yeah Write!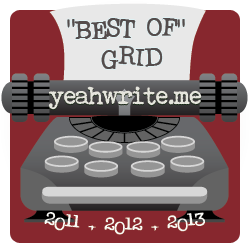 This is part of a series, Scene from a Memoir.