thathth
Bases loaded, bottom of the ninth. If she can just hold off this batter, she'll get her first win.
The 7th-grade wood shop teacher made it clear that girls shouldn't be in shop. The alternative, home economics, had a final project to sew a silken-backed vest by hand. I wanted to wear a silken-backed vest even less than I wanted to sew one, so there I was, the only girl among heavy machinery and a roomful of boys.
Shy and awkward, I was the kid always picked last in gym class, but I had just seen Tatum O'Neal in The Bad New Bears. Her character, Amanda, had something special that others wanted. She threw a baseball like none of the boys could, so she made demands for French jeans and ballet lessons. She chewed her gum with authority, squinted her eyes at the batter on the plate, and let fly a fastball.
I slipped on some confidence like Amanda's cleated sneakers and tried it out, walking gingerly. It seemed to fit. So even though I couldn't throw a baseball and wouldn't dream of changing my Levi's for imported jeans, I carried a little bit of Amanda with me into the wood shop class.
My teacher, age 80 or thereabouts, treated any question I asked or mistake I made as clear proof that a girl didn't belong in his class.
And here's the windup. The pitch: a fastball, low at the knees. Ball three.
I had been fumbling with my candle holder for the last few days of shop class. I avoided asking my teacher for help by getting busy with my sandpaper any time he came around. That wood was as smooth as a Louisville Slugger.
Still, the whine of the saws, the smell of the sawdust, the new creation made by my hands, I was beginning to enjoy the class, beginning to belong.
And she lets loose a curve ball. Strike two. A full count: 3 and 2.
The boys asked him questions all the time, so why shouldn't I? I popped in a fresh stick of Juicy Fruit and began chewing away.
Here comes the pitch. Will it be another fastball?
"Um, Mr. Jones? I need help putting the blade in the band saw to cut my next piece," I said.
Mr. Jones put down the candle holder he was inspecting and looked me square in the face. A pause.
He said, "You are chewing your gum like a cow chewing its cud."
There's a long drive. Oh, what a hit. It's over the fence. A home run!
Game lost, I stood there lonely on the mound, cheeks burning.
The fact that he's probably been dead for 30 years doesn't lessen my shame. That game is etched in the record books forever.
—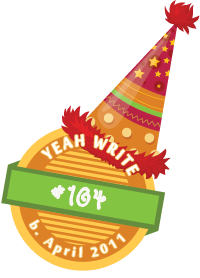 Submit your blog essay or anecdote of no more than 500 words to Yeah Write on Tuesday and return on Thursday to vote for your five favorites.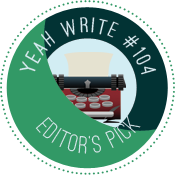 This is part of a series, Scene from a Memoir.