"Advice from a veteran trapeze performer: Throw your heart over the bars and your body will follow." — Unknown
Harness on, I looked out from the rooftop trapeze school toward Manhattan's Freedom Tower and gave a half-hearted acknowledgment when my group was asked if anyone was afraid of heights.
Was I still? I'd gone zip lining, rappelling, cliff jumping. I'd arrived an hour early and watched the end of the previous trapeze class, and I secretly was thinking, "Yeah, I got this."
Then I was faced with the ladder. I climbed it as a three-year-old climbs the stairs. Left foot up, rest with legs together. Left foot up, rest with legs together. The ladder swayed back and forth, and my confidence swayed with it. I started in on the internal monologue: "I wanna go back down. I'm so stupid. Why do I get myself into these situations? Oh yeah, my list."
I made it to the top and got even more scared when the ladder ran out. I awkwardly crawled onto the board on my knees. The instructor on top only glanced at me for half a second before stating the obvious: "You're nervous, huh?"
She unhooked me from the ladder safety line and hooked me into the trapeze safety lines.
My heart pounded, and, for this part, my memories take on a cottony, sluggish quality. Did I place my ten toes over the board, legs shoulder width apart, as I had just practiced down below? I evidently had.
The scariest bit was still to come.
Holding onto a ladder with my left hand, I had to lean into the abyss, hips and chest forward, and reach as far as I could to grab a metal bar — the trapeze — with my right hand. It was surprisingly heavy and tried to pull me off the platform.
The instructor held me from behind, so I wouldn't go over until ready, and even if I did, I was hooked into two safety lines with a safety net below. I felt completely sure of my safety, and yet, the fear, the instinctual certainty that I should not be thrusting my hips forward over a drop… You can't argue with that.
I did it, though.
I stepped off, what technically should have been a small jump, and swung forward, flying on a trapeze. I bungled my attempt to hook my legs over the bar, as several of the beginners did, and before I knew it I had followed the command to let go and sit down, down, down into the safety net. Breathing hard, I crawled over to the edge and somersaulted off the net onto solid footing once again.
The instructor gave me some tips, the most basic of which was "breathe." I hadn't realized I had been holding my breath the whole time.
I never did master the tricks, but I climbed that ladder again, leg over leg, and stepped into the abyss with hips forward, breathing, and thinking, "Yeah, I got this."
And then I was free to spend the rest of the day in Manhattan with my husband, exhausted from adrenaline, and glad that the fun was over so that I could relax and enjoy myself.
A brief video:(Video link)
Planet Trapeze School, a little planet photo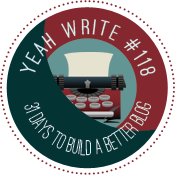 #8 (101 things in 1001 days): Take a trapeze class.