On Grafton Street in white and gold,
with regal wings and upturned palms,
a painted statue is ignored by most.
Two lads approach, coins in hand,
not really seeing her.
She comes to life and startles both,
yet cheers their weary souls.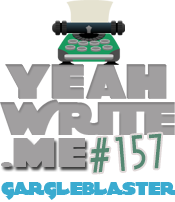 In response to the Gargleblaster challenge, I had 42 words to answer "Do you see her much?" I wrote about when this living statue brought a bit of magic to a tiring afternoon in Dublin.