Image by Ross Berteig (CC by 2.0)
During my first year of teaching, I learned a tip: get on the good side of the secretaries and the janitors. What I didn't know, though, was that there was another person more powerful than they: the copy machine woman.
Jackie ruled her domain with an inky fist. She had exacting rules for filling out a copy request form. More important, though, was the unwritten rule that newbies didn't know about. The experienced teachers knew to ask her about her cats, which she photographed in holiday costumes.
Instead, I dropped off my copy requests with only a perfunctory greeting.
Jackie didn't make any of my copies, not that day, not that week.

Now that I've been teaching forever, I can deal with whatever technical difficulties come my way. As a new teacher, though, my lesson plan was my life preserver, and my lessons all relied upon those unobtainable copies.
Out of ways to stall my classes, I went in early to ask for my copies. With a huge smile, Jackie told me they weren't ready yet.

"I'm sorry, but do you know when I could get them?"

"I'll get to them just as soon as I can," she said.
I looked past her at the bulletin board and focused on a tableau of one cat wearing a feather headdress and another cat wearing a tricorn. Columbus Day? A Thanksgiving preview? Dear God, what were those poor creatures having to endure? I considered fawning over her cats.
Image by Brett (CC by 2.0)
I couldn't bring myself to do it, so I did the only other thing I could think of. I walked down the hall to her supervisor, and, feeling like a nerdy student, I tattled on her.

Her supervisor was appalled that I had fallen victim to the Great Copy Stonewall of 1997, and I got my copies, along with a new title every time I spoke with Jackie: Princess.

"Why, hello, Princess! Do you need those quizzes run off right away?" she asked.

"Well, no hurry. If I could get them by Thursday, that would be great."
"Princess, for you, I will do them right now."

This went on for weeks.

Other teachers complained that we weren't allowed to make our own copies, and one of the machines was deemed touchable by teachers for three periods a day.
I skulked in and approached the machine.

"It's Princess!" she said. "How can I help Princess today?"
"Oh, no thanks. I'm just going to make a few copies."
I was then guilty of the greatest scourge on a copy machine Jackie had ever seen. I started to copy a textbook without putting paper over the uncovered portion of the glass. The resulting black band of toner would wreak havoc with Jackie's machine.

My senses bombarded by the mechanical whirring, I had no warning that Jackie approached me from behind. She put one hand on my shoulder and another on my hand, all while leaning in to shout in my ear to stop.
Between the shock of her shouting, and the half-a-second-later realization that she was manhandling me, my circuits overloaded. I pivoted around, and, an inch from her face, screamed: "Don't touch me!"

There's no easy way to take it back once that particular cat is out of the bag. I apologized, but I had hurt her to the core. We were enemies.
She never called me Princess again.
Image by Ross Berteig (CC by 2.0)
—
This is part of an occasional series, Scene from a Memoir.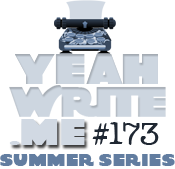 Thanks to the Bronze Lounge at yeah write for critiquing the first draft of this essay.