At the Boston Women's March yesterday, I joined thousands and thousands. At one elbow stood an elderly woman, worried about health care and the loss of common decency, and at the other stood a male M.I.T. student, worried about the rights of others being threatened. I stood amid people from diverse backgrounds, crowded peacefully in a historic park, with bursts of pink all around proclaiming support for women.
The turnout exceeded all expectations, not just in Boston, but in cities throughout the U.S. and around the world. Some commentators speculated that this was the largest single day of protest in our nation's history.
On the stage, the speakers implored us to fight for American values of equality, tolerance, and diversity, to stand up for the vulnerable, for the planet, for science, and for our rights.
One of the speakers on the Boston Common invoked the revolutions and protests that have happened on that same patch of land throughout American history, going back to the earliest days of the American Revolution, and linked the Women's March with our country's other historic fights for justice.
I went into Boston with my husband, and we met up with our son who attends college nearby. In a minor miracle, he found us among the cheerful crush of humanity. We stayed glued to our spot near the fourth tree from the flag and guided him to us over the course of an hour.
The size of the crowd made logistics a challenge, with long waits in gridlock to line up for the march, but the peaceful crowd stayed patient.
Singing and chants broke out here and there, a respite from the brutal, depressing year of Trump's campaign of hate, as well as from his inaugural address the day before, which painted such a grim, illusory portrait of America. While home sick during the inauguration, I watched it on television and worried that my impulse to bear witness would give him one little piece of the ratings he so craves. I heard him take the oath and saw the rain start to fall with my own ears and eyes, but somehow I pushed it away from myself as I let out a sob.
Only a day later and a few hours north, I looked deep into the crowd and couldn't see the end of it, saw kindness and hope and grit and resolve, all just one part of a vast movement to reclaim America.  
At home that night, I saw my Facebook feed flooded with photos from marches all across the country, and on the news I saw reports of the huge protests all around the world.
As I turned off the light for bed, I noticed my cheeks had turned a little pink, that even in the darkest of winter a few hours in the sun will have an impact.
A million seeds of resistance were planted yesterday. May they bloom.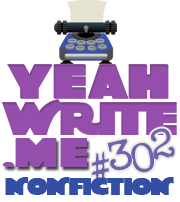 The Women's March launched a campaign to take "10 Actions for the First 100 Days" of Trump's presidency. Update 1 –Send postcards to Congress:
Update 2–Huddle:
Update 3: Hear Our Voice
From the Women's March organizers: "Click here to listen to a recording of the kickoff tele-townhall, with Senator Kirsten Gillibrand, Cecile Richards of Planned Parenthood, Leah Greenberg of Indivisible, leaders from the United State of Women, and Women's March co-chairs Bob Bland and Carmen Perez, about how you can take local action to stand up and fight for equality, justice and freedom."